The Great Tallwood Divide: Has the Academy split our student body in two?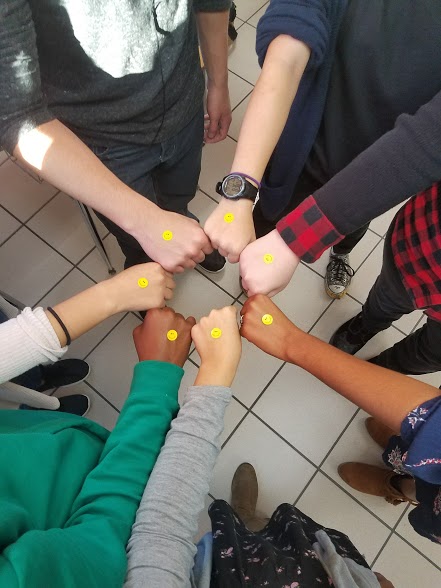 Hang on for a minute...we're trying to find some more stories you might like.
As most academy kids are aware, there is a huge stressor on culture at school. Academy kids, as a requirement, must even acquire sixteen cultural points by the end of their stay in the academy. As a result there are many programs, events, and clubs pertaining to culture. Tallwood partakes in cultural cafes, events such as their annual global gala and academy ball, JWAC speakers, and their own Filipino Cultural Club, Arabic Club, French Club, and other clubs of the same nature.
However, many kids outside of the academy have qualms concerning the academy. The cultural events put out for the academy have some strong implications, ones that correlate with the message of the Global Studies and World Languages Academy. They are all inclusive: impartial to people of every race, gender, ethnicity, or origin. This falls under the definition of "global citizen," a term one familiarizes themselves with pretty early on. But for Tallwood events that fall into the "Academy" category, other kids find themselves not only not belonging, but feeling as though they are not allowed to attend.
Why is this? Maybe somewhere along the line, the policy and rules pertaining to these events got a little blurry. To clarify where the line is drawn when it comes to who can attend these activities, I talked to some students at Tallwood and here is what they had to say:
What do you know about the academy? Did you know they host events here?
Jordan Rowehl, 10th Grade: I know they have students host cafes and I know that certain students in the academy have to take specific classes.
Joli Lawson, 10th grade: I knew you guys traveled the world
Jacob Motley, 10th grade: Yes, we host people here. The academy is like the bridge for new friendships.
Mario Esquivel-Moran, 10th grade: They offer a biliteracy seal, and you can travel.
Have you ever heard of announcements for these event, or flyers posted around the school?
Jordan Rowehl: I've heard announcements about cafes.
Mario Esquivel-Moran: Yes, SCA announces a lot of events.
Jacob Motley: Yes, you can go into Mrs. Windish's class, whom is very informative, and they are on the morning announcements every day.
Do you ever attend these events?
Jackson Weber, 10th grade: No, I plan on going to one maybe in December.
Jordan Rowehl: I attended one.
Jacob Motley: Sometimes.
Do you think there's a rule, of who is allowed to come to these kind of things?
Jordan Rowehl: No, all I know is all students are allowed, but a lot of the students here play sports, so it's really hard to [attend].
Jackson Weber: I don't think there is. There shouldn't be.
Jacob Motley: No, a lot of them, like the culture cafes, are open to everybody. Come and show up.
Do you think that non academy students should be allowed to attend every single event here?
Jordan Rowehl: I already thought they were, because I went to one and I'm not in the academy.
Mario Esquivel-Moran: No, because academy kids work hard for their success in the academy, so events like the academy ball should be only academy.
Do you think the academy is relevant to Tallwood at all? Do you think without it, we would still be okay?
Jordan Rowehl: Well, I mean, I can't really say for sure because I don't know firsthand what the academy is like.
Elijah Ruiz: Um, I would say it's relevant but I kinda find it like, how you get into the academy, I find it kinda off, because they get so many more advantages and stuff, for classes, being able to attend more things like you said, I kinda find it like, I want to be able to do those things, but since I'm not in the academy, I can't.
Mario Esquivel-Moran: Yes, without the academy, we wouldn't have as many kids doing different stuff.
Jacob Motley: The academy is very relevant; we wouldn't have the same image (without it).
Do you think that there's a line separating the two? Like the academy and non academy?
Elijah Ruiz: Oh definitely yeah. There's a lot more clubs you can attend and different field trips and activities you can participate in when you're in the academy, because I have multiple family members and friends that did the academy, and that's just not particularly what I want to do, but they've been like, "Oh yeah we went to Spain", and all this, Mexico, they went everywhere and I was like, "Oh! That sounds cool," but I'm not in the academy so I can't go and do all this stuff that they said they did.
Jackson Weber: The classes they take maybe.
Do you think that academy kids, are in any way, more privileged than non academy kids?
Jackson Weber: Partially, because they get to travel the world, but that's just because they're in the academy.
Elijah Ruiz: I would say they have more advantages than most kids at this school.
Jacob Motley: Yes, we can travel, but normal kids can't.
Mario Esquivel-Moran: It's only because we applied. Any kid could get in as long as they applied.
Do you think there is any way we could make them (non academy kids) have more advantages? To bring everyone more together?
Elijah Ruiz: I would just say, more clubs, and like, different, like I said, activities that you can participate in like, scholarship programs, like, being able to do stuff and like, just get more chances at things
Mario Esquivel-Moran: I don't know how to explain it, but it's hard to because everyone is different.
Jacob Motley: No, I don't think there's anything we could do. There is a huge separation between non-academy and academy. It's hard to connect with everyone.
After conducting these interviews, my stance, and what I wanted to discover completely changed. I had some unanswered questions. What if things at Tallwood were solely based on merit? Sure, some events and activities are experiences only for students within the academy for reasons only applicable to specific students, but isn't it too slightly exclusive?
I love the academy I'm in and the people within it. But how can we say we are truly global, truly accepting, or truly worldly if we cannot even reach out to those down the hall, or if we cannot even share or connect with those around us? There are many great experiences within the academy, ones that are priceless and once in a lifetime opportunities, but one experience and opportunity a lot of us miss out on is to share and create with those around us.
Sure, the academy is the academy for a reason. You must get accepted to be in it, your work pays off, and so there are benefits only for the academy. But beyond that, this "eliteness" or "superiority" mindset that follows to a certain extent separates us from the rest of the student body. The academy kids are by no means better or worse than any other student at Tallwood. This has and never will be the case. But by understanding there is a class within our classes, a barrier is put up.
There is a bubble isolating us from the rest of the students, and it creates a shelter that we can all hide under. Yes, it is an environment we can thrive in, but it isn't the best, because the rest are left in the cold, and we are left in the dark. After all, it is already my Sophomore year, and I have yet to learn the names of over half of my class.
So what can we do about this? Surely there is a way we could bring more opportunity to Tallwood. Maybe the problem isn't that there is policy about who is allowed to attend, perhaps the problem is that the amazing events hosted at Tallwood aren't broadcasted as much as we think they are. Sadly, I'm not sure everyone pays attention to morning announcements, and in our day and age, there are ways getting word out more quickly. With good advertisement, and a public who could be generally interested, we are just another step closer to bringing our student body together.
And this doesn't have to stop at just academy events; it could branch out to something much grander. Students can meet each other outside of their classes through clubs, activities, and school games, but it would be nice if we had an event that could appeal to everyone, where, for a limited time, any student could get together and hang out. With strong fundraising, possibly from different clubs, could Tallwood host a festival? A celebration of each other, of Tallwood, of our diversities, and a support of our clubs and teams. If we all work together, could this happen? Should it?
EDITOR'S NOTE: One way all students can find common community is by applying for CIEE travel. Tallwood High School students are eligible for scholarships for summer study abroad programs offered by the Council on International Educational Exchange (CIEE). CIEE awarded up to $25000 to Tallwood in Global Navigator Scholarships. It is open to all students. The Roaring Gazette has published an article about this program in this issue. Visit their website for additional information. Priority deadline is December 1.
Below are the stories featured in Volume 3, Issue 3 of The Roaring Gazette.
Students will soon need fewer SOLs to graduate by Aniyah Lewis
2018 Leadership Workshop coming soon! by Cassidy O'Neal
Marching Lions receive a Superior rating by Sotiria Bessinas
The Great Tallwood Divide: Has the academy split Tallwood in two? by Noelani Stachurski
Meet a Lion: Mrs. Yuzhbabenko by Chris Purkiss
Lion Voices: What would you change about Tallwood? by Frances Summers
Teachers' homework policies vary by Frances Summers
CIEE offers great travel opportunities for students by Bethany Hansel
Ms. Adams is here for all your school store needs by Ashley Archila-Ventura
The homework surplus by Finley Brakke
Virginia schools must aim to teach ALL students by Marissa Goodall
"Jigsaw" a disappointing entry in the "Saw" series by Ashley Malinson