Marvel does it again with "Thor: Ragnarok"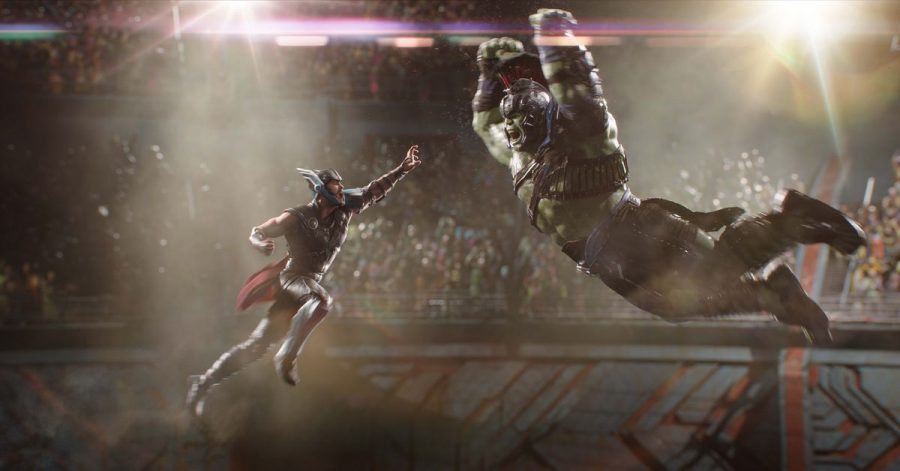 Sotiria Bessinas
December 4, 2017
The newest Thor Marvel movie was released on November 3rd 2017. It was very humorous and action packed, keeping you on the edge of your seat and completely captivated.
Even though this movie was supposed to be about Thor, the Incredible Hulk did make an appearance, as did Bruce Banner and Dr. Strange. The story line never stopped; you couldn't possibly fall asleep watching this movie, nor would you want to with all the jokes cracked.
The movie shows Thor trying to stop Ragnarok, but there is a major plot twist that you will just have to see for yourself. If you didn't know, the meaning of Ragnarok is the ending war, the final battle, the death of Asgard. All in all, this movie was a hit.
Just like other Marvel movies, it gives you a sense of drama, humor, and action. These three things are the reasons that Marvel is so popular, even if some people don't like it.
If I could, I would see this movie at least five more times. Especially because Chris Hemsworth got a great new haircut in the middle of the movie.
If you're looking for a good new movie to see, go watch the end of the Norse world in "Thor: Ragnarok."
Below are the stories included in Volume 3, Issue 4 of The Roaring Gazette:
Tallwood to try a one lunch schedule by Aniyah Lewis
Drugs at Tallwood: An honest conversation by Noelani Stachurski
Tallwood students react to recent state election by Chris Purkiss
Lion Voices: What is your favorite class? by Frances Summers
Meet a Lion: Mrs. Zhang by Mitchell Durant
Do grades motivate students? by Khyannia Banks
Meet a Lion: Mr. Jason Ordonio by Aaliyah Alli
U.S. should recognize the contributions of Latina women by Ashley Archila-Ventura
"Kevin (probably) Saves the World" is (definitely) worth your time by Morgana Nicholson
Don't bother boarding this train by Ashley Mallinson
Blandness reigns at the multiplex by Ashley Mallinson