Meet a Lion: Mr. Jason Ordonio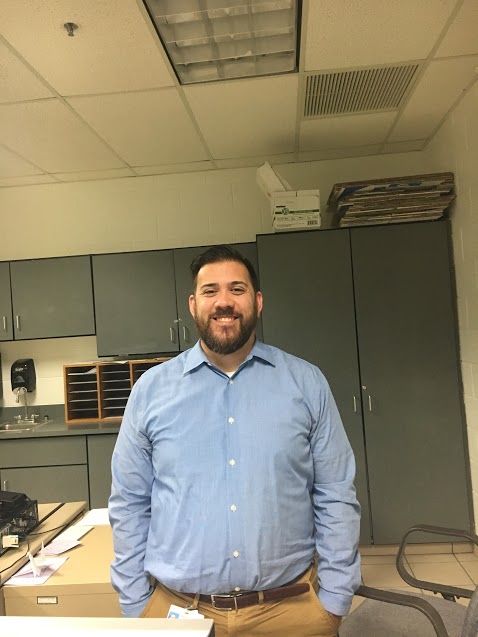 Aaliyah Alli
December 4, 2017
When you become an adult, what's the one thing needed to survive around the world? Money! And you need a job in order to earn money. But, how do you finance it? How do you know you're using your money correctly? This is something required to learn as a Junior at Tallwood High School.
Meet Mr. Jason Ordonio. He is a kind and charismatic teacher who is not afraid to to embrace his strengths and improve his weaknesses. He is a fun teacher who encourages his students to be the best person they can be. In a recent interview I asked Mr. Ordonio a few questions so we can understand him better as to why he wanted to become a finance teacher and a little bit more about him as a person.
Roaring Gazette: Do you enjoy teaching?
Jason Ordonio: I certainly enjoy teaching. There are many people who wake up in the morning not wanting to go the their jobs, but fortunately I am not one of the people.
RG: What are your hobbies?
JO: I enjoy spending time with my wife and 2 young daughters. I also enjoy anything outdoors from surfing, snowboarding and hiking.
RG: What is your favorite holiday?
JO: The easy answer would be Christmas but for me it is 4th of July. BoardShorts, flip-flops, sand and barbeques
RG: What kind of food do you like to cook?
JO: Anything Mexican or Asian!
RG: If you could go anywhere in the world, where would you go? Why?
JO: I would go to Tahiti. Beautiful white sand beaches and clear blue water.
RG: Why are you a finance teacher?
JO: My undergrad is in Finance and I find it extremely interesting. Who doesn't like talking about money? By teaching young adults about finance, I hope that I am able to help prepare them for what is coming in adulthood.
RG: What is your greatest strength and weakness in teaching?
JO: I would say my greatest strength is my energy and charisma. I remember what it was like sitting through classes that have low energy and I don't want to see my students with the look on their faces that I had. A weakness of mine would be that sometimes I expect the students to know something that they have no experience with. I work on this weakness everyday.
RG: In what ways do you encourage creativity in your classroom?
JO: I allow students to have a voice in my room. Whether it be from open discussion or topic discussion, I want to hear their opinions on the matter. When it comes to finance, there are multiple ways to reach a solution.
RG: What kind of teacher do you strive to be in a classroom?
JO: I strive to be a teacher that is able to take a boring topic like credit scores and make it interesting to learn about. One that is able to keep a fun learning environment where students feel comfortable to interact and take part in the learning.
RG: Does any part of teaching scare you?
JO: The pay! But in all seriousness, no part of this job scares me. I hope that we are able to keep innovating the learning process to improve our ability to teach.
RG: What do you believe about grades?
JO: I believe grades are a representation of a student's character and desire to succeed.
RG: Why do you think this?
JO: There is no secret ingredient to having good grades. Hard work, focus and time management are a few keys to success in any venture.
RG: What is the true purpose of grades?
JO: Grades are meant to reflect the the student's knowledge on a particular subject matter
RG: Should grades reflect who students are?
JO: Yes and No! This is a bit of a loaded question but in my opinion, grades do not always reflect performance. However, it is a benchmark that is used when evaluating a student.
RG: Can you still be smart if you have terrible grades?
JO: Defining "smart" is a difficult thing to do. I have met people who are incredibly academically talented but can't walk and chew gum at the same time. I have also met people who did horrible in school but went on to achieve great things. Being "smart" is a matter of perspective in which every person holds a different lens.
RG: If you could change any part of the school system what would you change?
JO: Where to begin! I believe it would be beneficial to start the school day later. There is nothing like starting school at 7:20 a.m. and taking an AP Calc BC test. What brain is ready to work that hard first thing in the morning. As highschoolers, you are generally going to sleep later in the evening and I think the extra time in the morning would be beneficial. I would also like to see an emphasis on transferable skills and trades. Not every student is college bound and providing even more avenues for those students to succeed would be great to see.
RG: How should someone find a job?
JO: Self reflection should be step one to searching for a job. What is the job you "can't not do?" You have to ask yourself questions like this to determine where to focus. Just choosing a job out of a hat might not bring you the happiness you desire.
RG: Should the job be determined by the student's grade?
JO: Grades do not generally impact whether a person will get a job or not. Education is the benchmark when it comes to employment. For instance, an individual with a college degree is more marketable than someone without. That is because of what the degree represents. A degree shows an employer that you have the ability to start and finish a task. It also shows that you have the ability to invest in yourself, therefor they can invest in you. Degrees show a future employer that you are trainable and are able to manage your time.
Below are the stories included in Volume 3, Issue 4 of The Roaring Gazette:
Tallwood to try a one lunch schedule by Aniyah Lewis
Drugs at Tallwood: An honest conversation by Noelani Stachurski
Tallwood students react to recent state election by Chris Purkiss
Lion Voices: What is your favorite class? by Frances Summers
Meet a Lion: Mrs. Zhang by Mitchell Durant
Do grades motivate students? by Khyannia Banks
Meet a Lion: Mr. Jason Ordonio by Aaliyah Alli
U.S. should recognize the contributions of Latina women by Ashley Archila-Ventura
"Kevin (probably) Saves the World" is (definitely) worth your time by Morgana Nicholson
Don't bother boarding this train by Ashley Mallinson
Blandness reigns at the multiplex by Ashley Mallinson