Meet a Lion: Mrs. Zhang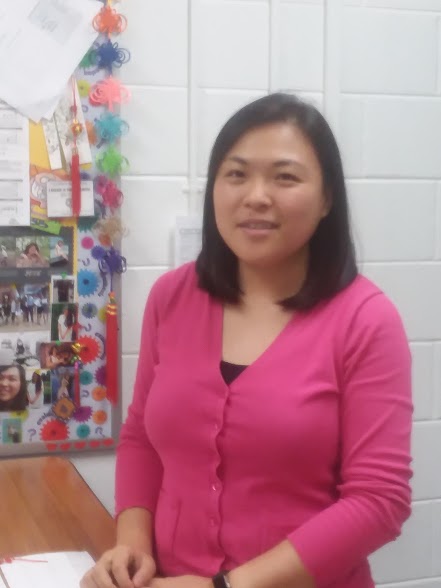 Mrs. Zhang ,winner of the "I make a difference" award, is one of many kids' favorite teachers. She is not only relatable and understanding but hilarious. And no class is ever boring.
Mrs. Zhang was born and raised in Beijing, China but likes American schools because of the creativity the students get to have. She even studied in America before becoming a teacher.
Mrs. Zhang thinks highly of her students, describing them as "good kids," "funny," and "crazy" but in a good way.
The feeling is mutual. When asked to describe Mrs. Zhang in five words or less, students used words like "A wonderfully fun pretty teacher" or "Kind, helpful…Funny…Inspirational." One called her, "The best teacher ever"
Mrs. Zhang's favorite foods are eggs, and she likes animals, plants, and watching documentaries.
Below are the stories included in Volume 3, Issue 4 of The Roaring Gazette:
Tallwood to try a one lunch schedule by Aniyah Lewis
Drugs at Tallwood: An honest conversation by Noelani Stachurski
Tallwood students react to recent state election by Chris Purkiss
Lion Voices: What is your favorite class? by Frances Summers
Meet a Lion: Mrs. Zhang by Mitchell Durant
Do grades motivate students? by Khyannia Banks
Meet a Lion: Mr. Jason Ordonio by Aaliyah Alli
U.S. should recognize the contributions of Latina women by Ashley Archila-Ventura
"Kevin (probably) Saves the World" is (definitely) worth your time by Morgana Nicholson
Don't bother boarding this train by Ashley Mallinson
Blandness reigns at the multiplex by Ashley Mallinson