"Mob of the Dead" a Haunting Addition to "Call of Duty" Franchise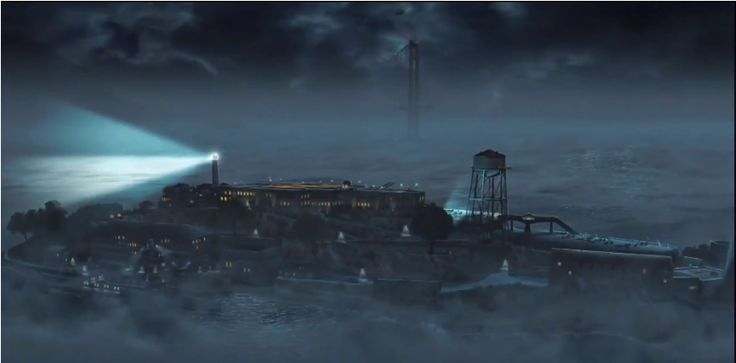 Charles Romano
May 16, 2017
Who would've ever thought a concept where mobsters had to fight off waves of undead zombies could go together so perfectly? Well, whoever they are, they truly are geniuses because this concept worked perfectly together.
"Mob Of The Dead" offers an extremely wide variety of gameplay and storytelling toward the zombies section of "Call Of Duty: Black Ops 2." With it's unique setting being the very creepy and infamous Alcatraz Prison in San Francisco, alongside new weapons such as the M1927 (Tommy Gun), Uzi, and the Blundergat to help players mow down undead foes.
Furthermore, players are introduced with an interesting side quest which requires them to craft a plan that can apparently help them escape the island. All of these new additions are included alongside helpful contraptions that can assist players in their zombie killing endeavor. Along with these, there is a new feature called afterlife, where players spawn in as ghosts and can potentially revive themselves or access needed equipment.
In the prohibition era, four mobsters Billy Handsome, Salvatore "Sal" Deluca, Michael Finn O'Leary and Al "The Weasel" Arlington have woken up on Alcatraz with clear amnesia and have no memory on what had happened to them prior to the night where they intended to execute their escape plan from Alcatraz. The four are left with many unanswered questions, but are forced to carry on and execute their plan.
It has been noted that the four have done this numerous times, and after each and every failure, they find themselves waking up with clear amnesia once again. Had Al not written down what the four were up to that night, they probably would've never been able to recall what they were doing before they were placed in their 'comas.' The four are given no other motives but to craft the plane and try to escape and survive Alcatraz.
Mob of the dead gives off a what I call, a "From Dusk Till Dawn" feeling, with it's unique storytelling twist for this ultimately small game-mode. It takes unwilling protagonists and puts them against unchangeable and impossible odds for survival.
Additionally, the mobster voice actor portrayals, by Ray Liotta, Michael Madsen, Chazz Palminteri, and Joe Pantoliano, have all done a fantastic and swell job with their performances. They truly add to the whole mobster atmosphere.
"Mob Of The Dead" adds a new and unique twist toward the zombie series of "Call Of Duty," and this very chilling tale of survival and horror will surely haunt players for many years to come.
Below are the stories featured in the May 19 Issue of The Roaring Gazette.
What Administration Learned from the Test Lunches by Kayla Smith
U.S. News: Tallwood 39th Best High School in Virginia by Kayla Smith
Students Bring Passion for Fashion to Tallwood Show by Ariana Hernandez
Yearbooks to Arrive in Early June by Elena Day
Junior Fun Night Lives up to its Name by Cassidy O'Neal
Meet Two Lions: Mrs. Lizan and Mrs. Bankes by Sydney McKissick
Mr. Justin Goldstine: Tallwood's Fixer by Ophelia Reid
Lions Football Begin Off-Season by Richard Ruffin
Tallwood High School Sports Update by Tyler Dennis
Dress Code Should be Fairly Administered by Amari McCoy
How to Make Seniors' Lives Easier by Marissa Howell
ISIS Must be Defeated by Dylan Klepk
Baby Groot the Highlight of Latest MARVEL Crown Pleaser by Austin Luciani
"Mob of the Dead" a Haunting Addition to "Call of Duty" Franchise by Charles Romano
Rather Rick Ross than Drake by Erin Nathan