Baby Groot the Highlight of Latest MARVEL Crowd Pleaser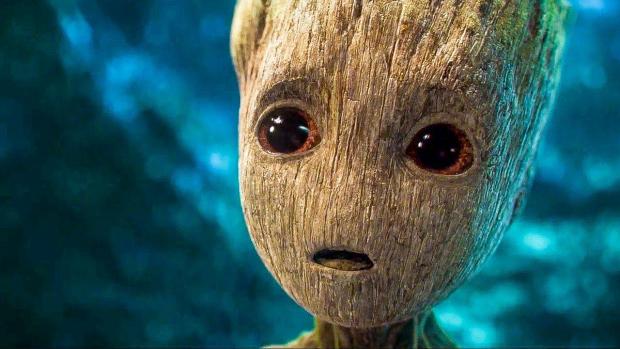 Austin Luciani
May 16, 2017
Mess with Groot, you get the boot!
"Guardians of the Galaxy: Vol. 2" was fantastic–from the still amazing cast, the story, and the unforgettable classic music from Awesome Mix 2. Chris Pratt once again takes the role of Peter Quill, AKA Starlord, as he embarks on a quest to discover his true parentage. The comedy, even though it wasn't nearly as much as the first, was one of the best parts by far. Baby Groot really got the audience's attention when he was on screen displaying multiple emotions, fight scenes, and overall hilarious acts. And of course, who could possibly forget the classic music and references from "ye olden days"?
The story is as follows: Peter Quill and his fellow Guardians are hired by a powerful alien race, the Sovereign, to protect their precious batteries from invaders. When it is discovered that Rocket has stolen the items they were sent to guard, the Sovereign dispatch their armada to search for vengeance. As the Guardians try to escape, the mystery of Peter's parentage is revealed.
Compared to the first, there isn't really as much humor in the second one as in the first "Guardians of the Galaxy," but the movie was still fantastic. The combined humor, acting, and music in the background in some scenes made it very funny. For example, in the beginning the film starts off with an alien attacking the very precious batteries the Guardians must protect. In doing so, Groot turns on the radio and dances to Electric Light Orchestra's "Mr. Blue Sky" while the Guardians get their butts kicked. It was very humorous, and the music made most of the scenes comical, even if the songs from the first one are more of a favorite than those in the second.
Finally, it was the cast's strong chemistry between one another that has made this movie so enjoyable. The bond between these actors, both on and off stage, is very similar to that of the "Fast and Furious" crew but with more humor. Baby Groot really stole the show when he was given screen time, and he left audiences begging for more. It's no secret that MARVEL is really building up towards their "Avengers: Infinity War" movie, where both the Avengers and the Guardians will join forces to confront their most powerful enemy yet, Thanos.
Below are the stories featured in the May 19 Issue of The Roaring Gazette.
What Administration Learned from the Test Lunches by Kayla Smith
U.S. News: Tallwood 39th Best High School in Virginia by Kayla Smith
Students Bring Passion for Fashion to Tallwood Show by Ariana Hernandez
Yearbooks to Arrive in Early June by Elena Day
Junior Fun Night Lives up to its Name by Cassidy O'Neal
Meet Two Lions: Mrs. Lizan and Mrs. Bankes by Sydney McKissick
Mr. Justin Goldstine: Tallwood's Fixer by Ophelia Reid
Lions Football Begin Off-Season by Richard Ruffin
Tallwood High School Sports Update by Tyler Dennis
Dress Code Should be Fairly Administered by Amari McCoy
How to Make Seniors' Lives Easier by Marissa Howell
ISIS Must be Defeated by Dylan Klepk
Baby Groot the Highlight of Latest MARVEL Crown Pleaser by Austin Luciani
"Mob of the Dead" a Haunting Addition to "Call of Duty" Franchise by Charles Romano
Rather Rick Ross than Drake by Erin Nathan