Ms. Schutte wins Tallwood Teacher of the Year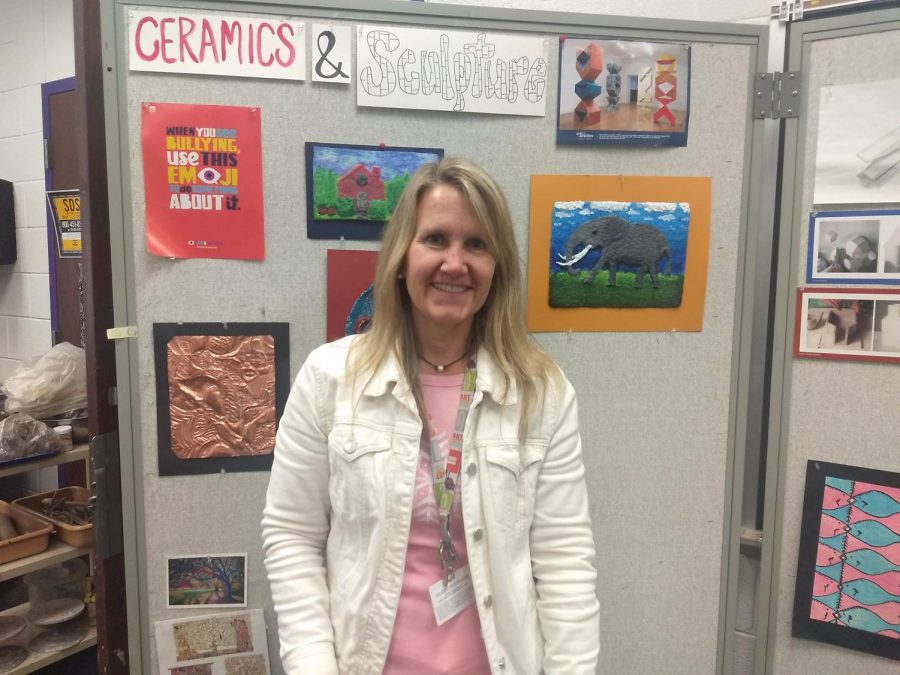 Bethany Hansel, Manging Editor
January 16, 2019
Tallwood art teacher Ms. Schutte has won the 2020 Tallwood Teacher of the Year award.
Ms. Schutte has been serving students of all ages since 1995, and this year, was selected out of several other applicants to be honored as Tallwood's Teacher of the Year by a group of Tallwood staff.
Having earned a Bachelor's in Studio Art and a Master's in Art Education before spending nearly 24 years teaching others about the craft she loves, Ms. Schutte's passion for art and for teaching is immensely evident. Ms. Schutte discussed a bit of her history with the practice and the love she has for her career.
"I went into art and realized that I really loved the idea of inspiring others to make art. Kids are amazing–I mean kindergarten through adulthood, people will amaze you. They'll say, 'I'm not an artist, I can't do this,' and then they do it…and it's just really cool how everyone is so different and they come up with all these different ideas, so I just wanted to share my love of art with others…."
Students are Schutte's number one priority, and she shared her firm belief in the value that art can add to students' lives.
"It's all about the students and trying to give the students a voice and a space to express themselves and feel comfortable."
Schutte also discussed the role of technology in art and general education, saying how the incorporation of technology has enhanced the educational process through various new opportunities.
"Students and teachers benefit from having one-to-one technology access….I incorporate digital technology by using the Promethean Board and playing music from the internet on a daily basis. I also allow students to use their devices to listen to music and do research for projects.  I used Google classroom and now use Schoology so students have access to my curriculum. As far as using technology that's related to my curriculum, I have students create artworks using internet apps, like iPiccy."
Schutte also acknowledged that despite a lot of the benefits and opportunities that come with technology, there are some issues surrounding the new technology trend that need to be addressed in order to maximize the benefits of technology and improve overall efficiency and opportunity.
"There are some hurdles to overcome, like training for teachers….Art teachers don't have as much training as is needed to keep up with apps that are available to use with students to create digital art. Basically, teachers sometimes have to learn along with students as we use technology in our classrooms. Teachers do receive training to use technology but teachers need to advocate for more technology training that is relevant to the curriculum begin taught."
Ms. Schutte shared that she felt that electives don't necessarily get the attention they might deserve, and thus her immense surprise and gratitude for being able to receive this award as an elective teacher.
"It's kind of cool to be recognized, I was definitely one of those people who was like, "It's an honor just to be recognized," and I would've been okay with not winning, it's just the recognition that is really kind of nice. We're in a big school and sometimes electives are kind of outliers to the core classes."
She later added, "I've gotten showered with congratulations, which is really cool, and Dr. Avila presented me with a basket of gifts along with other teachers and secretaries, and I was just like so surprised that people would go out of their way just to say congratulations."
Ms. Schutte stands among many other amazing teachers who deserve praise and recognition for all the time, energy, and passion they put into their work each and every day.
Winning Tallwood's Teacher of the Year means that Ms. Schutte will join administrators and past Teachers of the Year to determine who is awarded Teacher of the Year next year, and thus continue contributing to the cycle of recognizing and appreciating the incredibly hard-working, passionate, and dedicated individuals that serve their students with care and compassion every single day. Ms. Schutte's passion for her students and her subject area is what deservingly won her the Tallwood Teacher of the Year award, and her light continues to shine as an inspiration to all those around her.