Prom met with Mixed Reactions from Students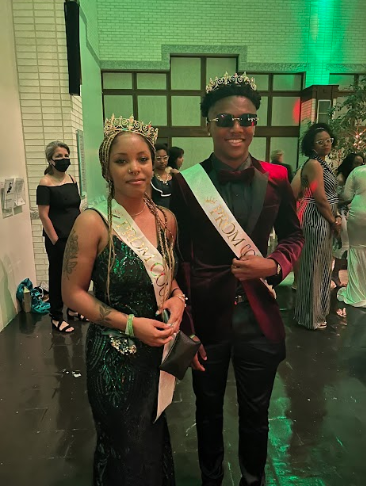 Prom season is finally over for the seniors here at Tallwood High School. On May 13, 2023, at 6:00, over 400 students attended the Glided Garden themed prom event at the MOCA museum. 
As many may know, prom is one of the most exciting and stressful times of the year for seniors. From things such as getting the right attire, car, and/or appearance, the whole process leading up to the big day contains a lot of planning and getting ready for. 
¨ I was trying to stay on a budget and I was like I really didn't want to spend my whole life savings on prom and I was worried about finding the right dress on time and the right shoes and it just took a while to find an outfit I wanted to wear and just planning it out was stressful¨ stated Abigail Saint Fleur, a Tallwood senior 
Meanwhile, it was also stressful for the class representatives that were helping plan prom. Having to get contracts, work with the students, order items, and work with different companies wasn't an easy task to handle before the specific date of prom. 
One of the 2023 class representatives, Mrs. Gjeldum stated ¨I think the most stressful part was trying to get all the contracts and things done because we tried to accommodate everybody and we tried to get students´ voice for all the choices that we get to do. Unfortunately, we do not get to just pick things and go with them. ¨ 
After all the planning, the big day finally came. With many different beautiful attires, decorations, and attractions, many students had mixed feelings about their experience. Including mixed reviews on things such as the food, venue, and seating. 
However, one thing that everyone could agree on was that the DJ was lacking in pleasing the current generation's music taste. 
¨I would rate it a 7/10 because I had fun with all my friends, and that was honestly the best part of it. The decorations were really nice and I didn't really try the food but minus 3 points because the DJ was just not really that good in my opinion, he played a couple of weird songs that no one knew and very very old songs¨ stated Grace Medina, a Tallwood senior 
A prom committee member, Kyra Williams stated ¨ Honestly, the only downside was mainly the music. I feel like it didn´t really appeal to me until the end and that is near when I was leaving and also I think the food could´ve been a little better for how much it cost¨  
Although many students had different experiences, overall prom was an interesting celebration to mark the senior year. So like this year´s prom, expect the unexpected!