Tallwood Teachers and Staff Celebrate March Madness with Competitions and Fun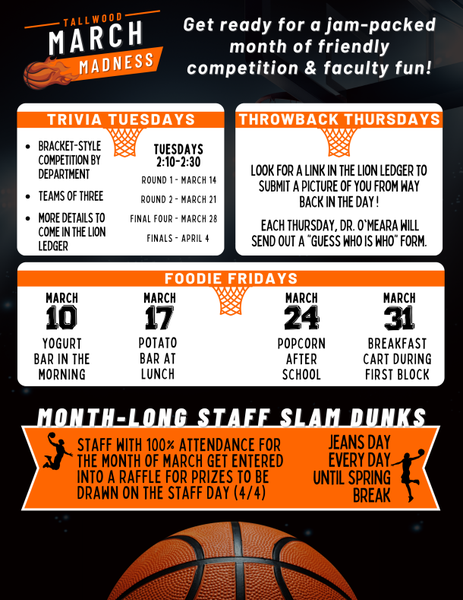 Teachers at Tallwood High School are celebrating March Madness by participating in friendly competitions and faculty fun.
March Madness comes with a number of fun activities for teachers. Every Tuesday starting on March 14 until April 4, faculty and staff host Trivia Tuesdays from 2:10-2:30 in the LMC. Throwback Thursdays is when teachers can submit a picture of themselves from back in the day. Each Thursday, Dr. O'meara will send out a "Guess Who is Who" form. 
Fridays are for "Foodie Fridays." From March 10 to March 31, teachers have been getting access to a yogurt bar in the morning, potato bar at lunch, popcorn after school, and finally a breakfast cart during first block. 
Teacher March Madness includes two "Month-Long Staff Slam Dunks" events. Teachers who have 100% attendance will be able to be entered into a raffle for prizes; with the winner being drawn on April 4. Also, teachers will be able to wear jeans every day until Spring Break. "I think it's nice (being able to wear jeans) because we have a long stretch of no days off. It's nice to wear jeans daily", said Mrs. Graham, math teacher at Tallwood High School.
"I either choose Foodie Fridays. It is now just as easy to put a pair of jeans on as it is a dress but Foodie Fridays…I can get a treat at school and I don't have to do any work for it. Love it!," said Ms. McGloine, world history teacher at Tallwood High School, referring to her favorite Teacher March Madness event. 
Sra. Piacentini also chimed into her favorite Teacher March Madness event. "Throwback pictures (is my favorite activity) because it is a good opportunity to guess who the teachers were when they were younger," said Piacentini, Spanish teacher at Tallwood High School.
Ms. McGloine then suggested another Teacher March Madness activity called "Teacher/Senior switch day." "Seniors (would) take on daily responsibilities of teachers/support staff and we (teachers) just chill as students," said Ms. McGloine. 
Teacher March Madness is filled with lots of great activities for teachers. Faculty/staff work very hard and the Teacher March Madness event is well-earned and fun.