Hamilton – An intriguing story about a forgotten man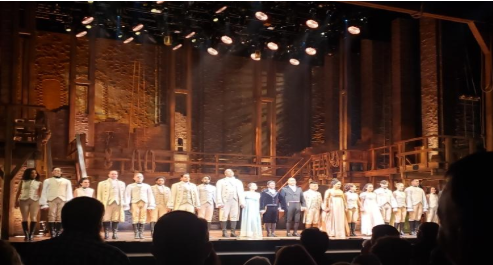 Hamilton the Musical is an amazing piece of art. Even if you can afford to go see it, you can listen to the album and get all the action, where as most other musicals you need to see it at the same time. I highly recommend it even if you aren't American, or even if you just don't know the story.
It is an old story portrait through modern hip hop music. The story is almost completely truthfully and one of the best things about it is that it doesn't make any of the characters seem better than they actually were. In Act one we meet Alexander Hamilton, and he is portrait as a hardworking, kind man who knows what he wants and how to get it. But when Act 2 rolls around the corner we begin to see all his flaws. 
Hamilton tells the story of Alexander Hamilton, one of the forgotten founding fathers. We hear and see how he as a kid, went through a lot. His father left, his mom and him falling ill, and Hamilton overcoming these problems and moving to America. 
All of this is shown in the first song which is mostly background information about Hamilton, where we also meet the most important characters and what their relationship to Hamilton is, like Aaron Burr says "Me? I'm the damned fool that shot him,", but this doesn't ruin the play, but rather gets us excited to see all the things, another reason why it's so good. His story is then told in "detail" from the second song, from the day he meets Aaron Burr in 1776, and all throughout his life, his marriage with Elizabeth Schuyler, his endless disputes with Aaron Burr and Thomas Jefferson, the great tragedies he experiences, and until his early death in 1804. It is a heartwarming and heartbreaking story about overcoming hardship and forgiving others. 
Lin-manuel Miranda, the creator of Hamilton, has also made other musicals which also have had great success. One of which is In the Heights. It's about a latino community in Washington. It was a great success, having originally been supposed to run for 4 months, but extended to 3 years. Because of this great success it is getting a movie in June 2020. Hamilton might also be getting a movie, but this would be a recording of the musical, where as In the Heights will be a "proper" movie.
Lin-manuel Miranda, the creator of Hamilton and other musicals, read a biography about Alexander Hamilton on a vacation in 2008, and was inspired to write a musical. In 2009 he was invited to the White House to perform music from his previous musical, In the Heights (Also a really good musical), for White House Evening of Poetry, Music and the Spoken Word. Instead of performing a song from In the Heights he chose to perform an early version of the song "Alexander Hamilton". He later said that if the song had been a flop the whole musical would've never been a thing, that this was the "approval" he needed. 
He presumed to work on the music, and in 2015 it hit Broadway for the first time, Lin-Manuel Miranda starring as the lead character, Alexander Hamilton. The musical only grew from there, and is now touring all of America, currently in Norfolk (dec. 10-29 – 2019), and even being played outside of the US, in London in 2017, and coming to Sydney, Australia in 2021. 
Even I, being a foreigner, love the musical and know almost every word, because it's so catchy and has an extremely intriguing storyline. Like most stories you can enjoy it without analyzing it, but if you do analyze it, you see the years of work that has been put into it.