Haikyuu!! serves a refreshing look at youth and volleyball
It seems like with every new addition Netflix makes to their collection, there's always a nice bit of nostalgia. Most recently, Netflix added Nickelodeon's Victorious and Sam and Cat and it seems like it's all anyone can talk about. Ask anyone and chances are they'll say they've been binge-watching Victorious for the past two weeks straight. But one recently-added show that not many people have taken notice of is a show that holds a very special place in my heart, more than any Nickelodeon show: Haikyuu!! (exclamation points included). 
Haikyuu (as I'll be referring to it from now on) is a manga series created by Haruichi Furudate which has been serialized in Weekly Shonen Jump since 2012, and an anime series that's been airing since 2014.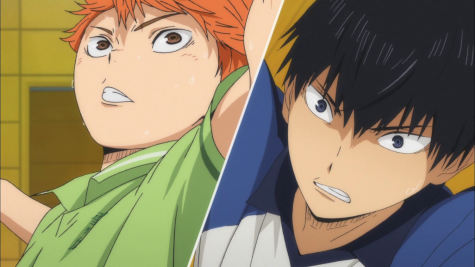 The show begins with plucky elementary schooler Hinata Shoyo (left) as he watches a broadcast of a national volleyball championship match and becomes inspired by a star player nicknamed "The Small Giant" for his short height, but incredible jumping power. After watching this fateful match, he's moved to create his own volleyball team when he reaches middle school. At the end of his first and final match of middle school, his team is defeated and he makes his first rival: Kageyama Tobio (right).  Vowing to one day defeat Kageyama, Hinata enters his freshman year at Karasuno High School, bounding into the school's gym only to find… Kageyama himself. The series then follows Hinata and Kageyama as they struggle to become partners as well as make it to nationals with the rest of the team. 
With a fairly simple premise, Haikyuu is able to make an incredibly riveting story. Personally, I knew little to nothing about volleyball before watching Haikyuu. In fact, I've never had much experience with sports outside of your standard P.E. class to begin with. I certainly never thought I'd be very interested in an entire series about high school sports. But, watching Haikyuu, I didn't mind that the show revolves around volleyball, because, while the main focus is volleyball, the show is about much more. Haikyuu isn't just a show about high school volleyball, it's a show about persistence, growth, and friendship. 
A major plot point in Haikyuu is, as silly as it may seem, Hinata's height. He's roughly 5'4", making him shorter than the average guy and especially the average volleyball player. While that would normally discourage someone from playing volleyball, or at least force them into a position better suited for defense, it becomes a strength for Hinata. He becomes a "decoy" as one of the team's middle blockers, fooling the opponents into letting their guard down in front of him before he surprises them with his speed and high jumps. While he's initially ashamed of both his height and his nickname as "The Ultimate Decoy," he learns to embrace them with help from his teammates and eventually becomes one of the team's star players. 
Similarly, the show's secondary protagonist, Kageyama, undergoes incredible development with the help of his team. In his middle school years, Kageyama is a selfish, short-tempered, perfectionist nicknamed "King of the Court" for the overbearing attitude he shows his teammates. As the series progresses, however, it's clear that he regrets this behavior and is simply unable to express his frustration effectively. He's extremely passionate about volleyball and, while that is initially something that causes conflict for him, it helps motivate him to grow as a player and cooperate with his teammates, especially Hinata.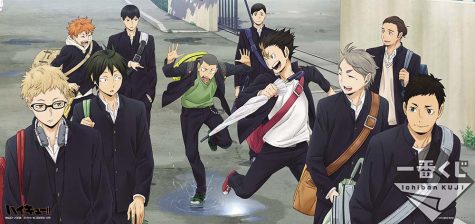 One thing to note about Haikyuu is that it's not just the main characters that get this level of development; Almost everyone does. From the coach to the team managers to even members of opposing teams, each character is well-rounded and given the care they deserve. Sometimes a full episode is dedicated to fleshing out a character in order to better understand how they play and act within the series. And somehow it never gets old or feels forced. It always comes at the right time for each character. Because of this, the characters and relationships in Haikyuu feel unbelievably real. The comic relief character is also a major source of inspiration for the team. The sideliners are working just as hard as the rest of the members for the sport they love. The seemingly unimportant team managers have their own goals and motivations. No character is just a character; They're people too. 
Overall, Haikyuu does an incredible job at creating a story with realistic takes on the various characters, their relationships with each other and with volleyball, and the sport itself! (Seriously, Furudate has put a lot of research into making the actual volleyball-playing as accurate as possible). On top of that, the animation and the soundtrack are killer! Production I.G. are the studio to thank for the wonderful animation in the series, and composers Yuki Hayashi and Asami Tachibana – as well as bands like SPYAIR, Burnout Syndrome, and NICO Touches the Walls – are responsible for the fun and emotional soundtrack. 
Haikyuu is wildly popular among anime fans to the point where it'd be hard to find someone who hasn't seen or at least heard of it. But, to the rest of the world, it may seem totally unfamiliar, especially if you have little to no experience watching anime. If you have any interest in watching sports anime or anime in general, Haikyuu is a great series to start with! It eases you into sports anime as a genre with an intriguing and entertaining story without too many of the unrealistic, near supernatural skills many sports anime protagonists are given. Plus, it's a nice show to follow if you're any interested or involved in volleyball. With the first two seasons of Haikyuu out on Netflix now and with a fourth season coming in January, 2020 (unfortunately the third season can only be found on streaming services such as Funimation and CrunchyRoll), now is the best time to get into the show. 
So, give Haikyuu a chance! You might just love it. In the show's own Tanaka Saeko's words: "There are some flowers you only see when you take detours."