Meet a Lion: Mrs. Free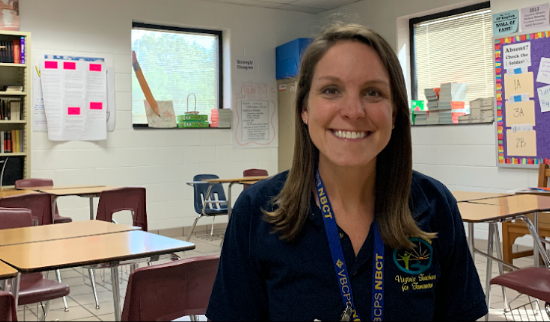 Mrs. Free teaches Dual Enrollment English and Virginia Teachers for Tomorrow at Tallwood. Her resume includes being the 2017 Citywide Teacher of the year and a 12 year-long saga of teaching at Tallwood High School. With that being said, there is so much to learn about her.
Roaring Gazette: Where are you from, Mrs. Free?
Jenna Free: Cincinnati, Ohio.
RG: Do you think that had any impact on your career choice?"
JF: Hmm….not as much as other things, probably.
RG: What made you want to become a teacher and when did you decide this?"
JF: Haha… I was the kind of child/young adult that always had like 15 options for what I wanted to be. In the fourth grade, I wanted to be an actress, which is hilarious. Then I wanted to be a writer, and then I wanted to be a physical therapist. I was so serious about that. But then I realized I didn't like science, and then I wanted to be in advertising, because at that point in my life people were like, "just pick a career based on what you like." I was like "I like Art and English…oh, advertising!" So that's what I majored in in college.
I got into this like selective program, and I started taking advertising classes. I realized that that field just wasn't really for me, and I thought to myself all my life if things doesn't work out, I think I would happy being a teacher. So my mom is a T.A., and she has a degree in speech-language pathology. My whole life she was a T.A in a special education program in an elementary school, and I think that probably influenced me. At the end of my freshman year, I decided I didn't want to do advertising. It took me until the end of my sophomore year to decide I wanted to do education."
RG: Why do you love teaching?
JF: For a variety of reasons. The first of which is I think that high school is a time in people's lives where they're making big decisions about who they are going to be, and what matters. I just think its a huge privilege to have even a small role in someone's life in that way. I also like teaching because it's different every single day, and it never gets boring because every single day I know that what I'm doing is purposeful and intentional. It's not just like I'm typing numbers on a spreadsheet and like wondering what might happen to it. I know that probably fulfills someone but it would not fulfill me.
RG: What has teaching taught you about yourself or about life?
JF: Because I teach in a public school, every year I have between 100 and 150 different human beings that I'm interacting with 2-3 times a week. I get to meet so many types of people. And when I say people I consider my student's people. I just meet so many different types of people and I just love that my students have perspectives that I don't have or they say things that I've never thought of before or like they talk about things that are important to that and none of my friends or family members have that perspective per se. It's just an eye-opening experience every day. 
RG: Do you have any advice for future teachers
JF: Don't quit when other people tell you you're not going to make much money.
RG: What has Tallwood's impact on you been?
JF: The Tallwood community has become my home away from home. This is my twelfth year here. The people I work with knew me when I was a really new teacher and you know they knew me when I had my first baby and transitioning to being a working mom. I hope that my impact here is that my classroom has been a positive place. I hope I bring enthusiasm and positivity.