Tallwood's Soundcloud rappers show talent exists outside record labels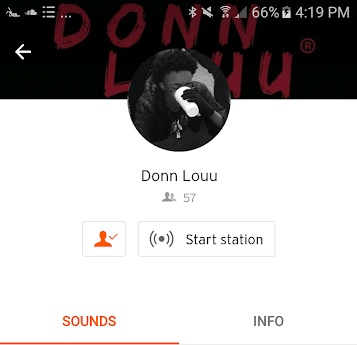 There is an wave of new rappers every year entering the the musical world. Thanks to a popular platform know as SoundCloud, everyone can virtually share their art with the world. You may or may not know that our school holds a little talent of its own. I interviewed two artists currently going to Tallwood to feature in this article. Here is what I learned…
My first feature is Donn who has been rapping for about a year now. Donn told me he got started when his cousin came over during Christmas break. His cousin asked him if he wanted to hop on a song and so he did. Initially Donn didn't take it very seriously, but his friends and family actually liked it and encouraged him. Then Donn decided to pursue rap a little bit more and see what he could do.
He has hundreds of songs recorded and he claims that his hottest music is still sitting waiting to be released. Donn told me, "Hundreds, Hundreds and I haven't even started that long and I haven't even released some of my hottest music." He mention a few projects that he was waiting to release and he actually has a new EP that dropped as of early March.
Donn names a few influences as "Bryson Tiller, Drake, Meek Mill. I can even go and say A Boogie. But I kinda have my own vibe sometimes." Donn has been named as one of the best rappers at this school by a few people separately. I know we are all excited to see what Donn has in store when it comes to music and rap. He's on three major music platforms if you want to check him out. Search the name Donn Louu on Soundcloud, Spotify, or Apple Music.
Chainedtrack was with his friend MJ during the interview in between MJ's jokes and clowning Chainedtrack or Tim, as his friends call him. He's been rapping for a few years.
"Since about eighth grade so that's like 3 years now. When I first started I was garbage but now I.. I've shown improvement."
I appreciated his humility even though this made me laugh reading back over it. Chainedtrack has some of the most mixed reviews of all the rappers at Tallwood. Some people say he's trash while others love his music. Ask a group of people about Chainedtrack and you'll get mixed reviews.
When asked about his influences Chainedtrack cited Kendrick and J Cole he even went as far as to say "you're not a real hip hop enthusiast if you can't bump Kendrick Lamar; Kendrick is just… Kendrick's an all time great."
Big words and big shoes to fill. Almost all rappers will mention these two artists because they are widely considered the best rappers of our generation. I believe that he has a long way to go when it comes to his music and living up to his influences but with practice and determination I think he could do it.
My Opinion:
Differences in the two artists. Both artists have vast potential while Donn's music sounds better simply because it is mixed better. Chainedtrack still has to master his flow and matching a beat but if you can deal with that you will find he has real things to say. Donn can be a very catchy and relatable rapper when he tries and other times he can get very aggressive. He has two distinct styles that you may or may not like. I personally think both artists will be very good in say six months. Stay on the lookout for Chaintrack and Donn Louu.