Tallwood Futsal Sparks Competition and Camaraderie Between Staff and Students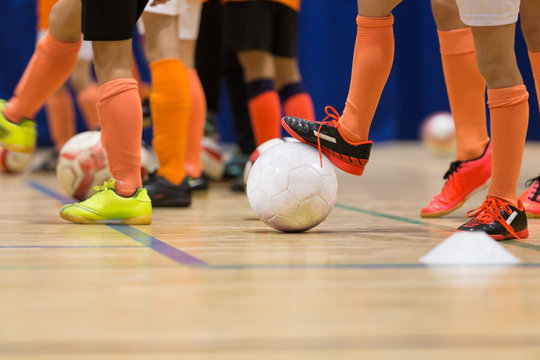 This winter season, an exciting indoor sport is on the come-up—and it's one that Tallwood High School has never seen before.
For the first time ever, Tallwood High School has established its first formal futsal league. This sport is a form of small-sided indoor soccer that uses a smaller and denser ball with less bounce than a traditional soccer ball, which allows players to focus on passing and technical footwork ability.
Tallwood's futsal league opened registration to anyone interested in playing—both teachers and students alike with no separation based on gender affiliation. There are multiple student teams that are divided based on skill, and one adult team that mostly consists of experienced futsal and soccer players, assistant soccer coaches, or alumni.
"We tried to make the student teams as even as possible to get the most competitive matches," states Bradley Watahovich, social studies teacher at Tallwood and lead director of the futsal league.
The games started at the beginning of January and will continue until the end of February, taking place every Saturday in Tallwood High School's gym from 3-6 p.m. So far, it is safe to say that the adult team is dominating this season.
"The season has gone very well," confidently says Jeffrey Sendzik, math teacher at Tallwood and member of the adult futsal team. "Right now, the teacher's team or 'grown-ups' are going into the last week of the regular season with a record of 7-1. We have already secured the #1 seed for the playoffs."
Despite the previous notion, Tallwood's futsal league wasn't created just for competition. The exposure gained from the futsal league will in-turn provide exposure for the girls' and boys' outdoor soccer programs for the spring. Watahovich explains it as an "avenue for students to come out and try soccer and see if it is something they have any interest in."
Watahovich's unbridled passion for soccer and its players is clear when explaining his reasoning for connecting the indoor futsal league to the outdoor soccer league. "Both Coach Smith—the girls' varsity coach—and I took over the varsity soccer jobs the year COVID-19 closed schools and it really hit both of our programs hard. We essentially had to rebuild our programs from the ground up and the hardest part was getting enough people to want to try out for soccer."
All in all, Tallwood futsal has been well-received by its players as well as those on the sidelines. As CJ Mainor, player for the student futsal team exclaims, "Outside of rankings, it's been a lot of fun and is helping keep my skills sharp." Sure, the competitiveness adds to the experience, but for the players, it's all about the practice and connections they make along the way that makes the league worthwhile.