High School after COVID: How COVID-19 affected staff and students so drastically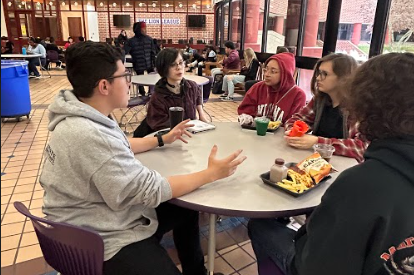 "We are teaching kids how to operate in public again." says Raymond Colston, the ISS teacher at Tallwood High School. He believes teachers post COVID-19 are constantly redirecting kids' behaviors, and trying to teach them how to be social again. 
The 2020-21 school year affected everyone differently at Tallwood. It has been a difficult adjustment for both the students and staff to come back after solely online learning. The changes that occurred due to COVID-19 have had an impact on the way students learn, but also how teachers have to teach. 
"It's more electronic, I don't use textbooks anymore." says David Baumer, one of the oceanography teachers at Tallwood High School. He has had to adjust to the new teaching methods COVID-19 has brought to Tallwood. While it's a lot different teaching from a computer, Mr. Baumer has adjusted well to the new changes COVID-19 has brought to the classroom.
Schooling post pandemic has also had an impact on how students interact with each other. The challenge of figuring out how to be social again has hit hard for some students. "It was hard figuring out who I could be friends with during that time." says Megan Grizzard, a senior at Tallwood High School. She explains the difficulties of finding friends post pandemic, but also how it was a challenge to find the right people to hang out with.
For many students, high school post COVID-19 has been a very different experience. "Junior year was the first year that really felt like high school," says Megan Grizzard. She, and many other students here have just recently had a true high school experience. From school being online to having to wear masks, school during COVID has had a very strong impact on students. 
While COVID-19 had many negative impacts, students here always seemed to look for the positive. Students during COVID would always find ways to bring everyone together. From hosting COVID friendly lunches to making sure students felt seen during these hard times, Tallwood students have always looked out for each other. 
Taking everything into consideration, Tallwood staff and students have worked hard to continue to make school exciting. While COVID-19 delayed many high school experiences, staff and students have always found a way to make Tallwood High School a safe and welcoming place.