Tallwood Indoor Track Team Is Ready To Have A Great Season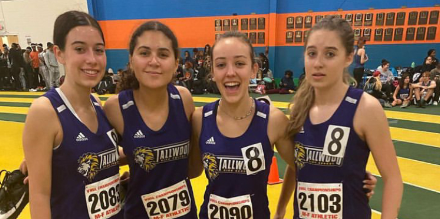 The Tallwood Lions indoor track team are seeming to have a underwhelming start to the season, but they are ready to make a comeback in the race for first. 
With the first indoor track meet having wrapped to a close and results released, Tallwood High School's track team have fallen behind in the leader board since the last few seasons. However, can this just be a slow start with butterflies in some nervous stomachs, and will the team be able to bounce back up on the top five leader board for some of these events?
"We did good. We have a lot of new people; so, it didn't go perfectly. However, it was a good first meet. We were against a lot of schools and we did the best we could do," says Kaden Ellison, a captain runner for the indoor track team.
It should also be known that there were some players out on injury for this meet. However, this doesn't mean that they were sitting around doing nothing; but instead, they have been waiting patiently to make a strong comeback when they finally heal.
"For me, I am currently injured, so I am to work my way back up to where I was at cross country season, and as well as become a good captain and a leader; so I can display my leadership skills to future captains that may come," says Kaylee Harity, a sophomore team captain.
Even though it sounds like they did badly at this meet, it was not all in vain. Having won a few medals in some of the events, it can be said that the meet was not entirely unsuccessful.
"We did well. We got medals in multiple events, especially the relays which we always do well in because we have a big team with a lot of potential" states Ellison.
With hope being spread within the team, the seniors seem to be especially fired up because they want to finish strong this season and leave their mark on the team. 
"Yes, we are prepared to finish strong. A lot of people have been a part of the track program since their freshman year, or even before that, so we're definitely ready to give it all we got," says Ellison.
Though the team captains seem to be in especially high spirits, there are also some runners who are happy with how the meet went, but still want to improve.
"I was definitely nervous. I had a lot of expectations I set for myself, and although I didn't quite reach those expectations, I'm still happy with how I did," says Joshua Hyams, a runner for the Tallwood Lions Indoor Track Team.
This all shows how the team has not lost spirit from the results of the meet; but instead, are improving their skills and waiting to see how they do at the upcoming meets this season.