Tallwood sends three runners to Cross Country States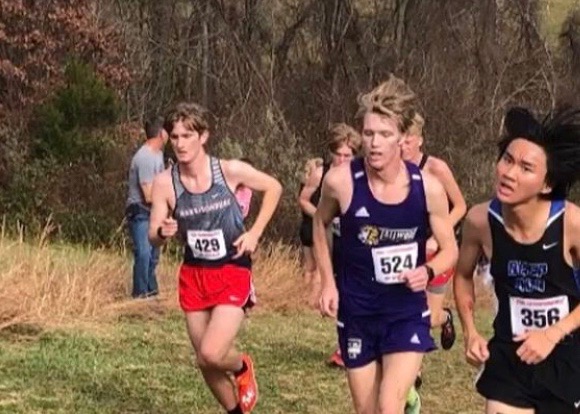 Tallwood's fastest cross country runners ran on a challenging course against even more challenging competitors. The Class five Cross Country State Meet was held on November 12, 2022 at Leesburg, VA.
"The course we ran was very difficult, so our times weren't what we were looking for, however, I think we still did good," said Logan Lovelace, a senior and the captain of the boys Cross Country team. Because only a few individuals from Tallwood qualified, they were not eligible to place as a team, but only as individuals.
Kyler Reynolds, a junior at Tallwood that transferred from Ocean lakes early into the school year, ran the fastest for the team at a time of 18:35, forty seconds off his personal record and earning 50th out of 103 places.
"My experience this time was much different than last year…this year was better because I had teammates to share the experience with," said Logan Lovelace when asked about his experience. He ran a 19:36, receiving 77th place. Lovelace was also the only one that also ran at a previous year's Cross Country State Meet for Tallwood.
Adriana DeGuzman, a sophomore at Tallwood ran a 23:41 only seconds away from her personal record, gaining 73rd out of 100 places. DeGuzman is also the only girl since 2014 that has gone to Cross Country State Championships for Tallwood.
"I hated the course," was the first thing that DeGuzman said when asked about the State meet. The five kilometer course, 3.1 miles, went through multiple hills and at one point through a small creek to add obstacles to the runner's path and slow them down.
All three of the runners are continuing to run for Tallwood for the upcoming Indoor Track season.