Marlin Briscoe: An Untold Trailblazer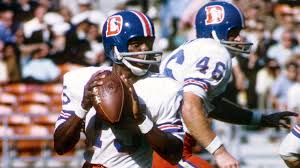 As we celebrate Black History Month, we take a look into the history of African American trailblazers who have changed the course of history. We celebrate people such as Dr. Martin Luther King, Jr, a civil rights leader that played a vital part in the Civil Rights Movement. But, there are many unsung heroes in African-American history, especially in football. Most NFL enthusiasts know of Doug Williams, who was the first starting African-American quarterback to win a Super Bowl. But, even in a predominately African-American populated football league, nobody knows a lot about the very first African-American quarterback to start a professional football game. Meet Marlin Briscoe.
Born in Nebraska and drafted in the 14th round of the AFL draft in 1968, Marlin Briscoe accomplished this trailblazing feat while playing for the Denver Broncos. At the time, the Broncos were part of the American Football League. The AFL merged with the former National Football League to form the current NFL in 1970. Two years earlier, Briscoe was the Broncos' third-string quarterback as a rookie, and the team was led by starter Steve Tensi. On September 29, 1968, in a game against the Boston (now New England) Patriots, Tensi broke his collarbone. The second-string quarterback in Denver was described as "shotty" and that set the stage for Briscoe's professional football debut. Against the Patriots, Marlin Briscoe led an 80-yard touchdown drive on his first professional football drive.
On October 6, 1968, Marlin Briscoe became the first African-American to start a professional football game. That day the Broncos took on the Cincinnati Bengals at the old Mile High Stadium. Briscoe led the Broncos to a 10-7 victory, the first win of the 1968 season for the team. Marlin Briscoe went on to throw for 14 touchdowns that season, a Broncos rookie record that not even all-time great John Elway could break. He was traded to play for the Buffalo Bills in 1969, then became a wide receiver. He went on to win a Super Bowl with the Miami Dolphins in 1972.
Though Marlin Briscoe had anything but a hall-of-fame career, Marlin Briscoe's trailblazing start paved the way for some of the greatest, most influential quarterbacks in NFL history. Briscoe allowed for Doug Williams' ascension to the NFL and he eventually become the first black quarterback to win the Super Bowl. Randall Cunningham popularized the running quarterback style that we see from most quarterbacks today. Quarterbacks such as Cunningham, Michael Vick, and Donovan McNabb have all influenced the quarterbacks of today, and it's all because of Marlin Briscoe.