Inside The Life Of A High School Football Player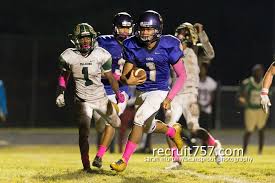 The Tallwood Lions varsity football team finished another season. This season saw a hot start, 3-game losing streak, and a win in the final game that put Tallwood in the playoffs. They lost a hard fought game playoff game against Oscar Smith, but the Lions overcame adversity to reach the 6A playoffs.
People watch their football games from the stands, and hear their parents yell relentlessly at the referees. However, people don't know a lot about the life of high school football players. No one focuses on how they have to balance school, football, their social life, and even work. I interviewed senior quarterback Sabien Stone to get some insight on what life is like for a high school football player.
Me: How did you balance senior year of school and senior year of football?
Stone: It was a pretty hard time trying to balance all of football, and all of school. I wanted to make sure that I had all of my schoolwork and I wanted to make sure all my grades were right this year, so I could go to college. But, it's hard to make time for football and school, because football practice ended at like 6:00, and then getting home late, and then having to do
my work, and I still have family time and stuff like that. It was pretty difficult, but I managed. I don't know how.
Me: OK, what do you feel like you accomplished during senior year?
Stone: My senior year, so far, I've had some pretty good, pretty decent grades if I might say. That was one of my main goals that I set coming into this year, and I had an alright football season. It wasn't the best I ever had, but it wasn't terrible.
Me: Do you have any regrets, or feel there's something you didn't do?
Stone: One regret that I have is not playing my best this football season, definitely.
Me: You were injured throughout the year. What kind of injury did you have?
Stone: I had a couple injuries, actually. I hurt my ankle; they didn't really tell me what was wrong with it, but it cracked a little bit at the end of the First Colonial game. That was bothering me all year. The first game, we played Princess Anne. I hyperextended my left knee; that wasn't too bad. Then when we played Cox, I had a second-degree sprain in my AC joint in my right shoulder, my throwing shoulder, so that had me out for a game. That's it.
Me: Did you give any kind of advice to the backup quarterback? Did you help him out?
Stone: Yeah. I had three quarterbacks under me this year. I definitely felt that I taught them well this season, gave them my advice, helped them out so they'd do better for the next season they have coming along.
Me: Did Coach Kepple address the team at the end of the season? If he did, what did he say?
Stone: He said that he was proud of us, because this was the team with all of us seniors that they'd been building around for the past four years that we've been here, and they wanted this season to be really successful. But it didn't end up being how we wanted it to be.
Me: Throughout all your years of high school football, what do you think was your best moment?
Stone: I don't know. I've got a couple. Probably our last game, playing Oscar Smith, because that's my last ever high school game. Or, I think it was sophomore year; we played Kellam High School. It was overtime, and I threw the game-winning touchdown. I'd say that was the start of my high school career.
Me: I don't have any more questions. Thank you very much for your time.
Stone: Thank you for having me.
According to Stone, it is very hard to balance school and football, which are each very demanding. What he said not only goes for football players, but for all student-athletes. The Lions finished with a 6-5 overall record and a loss to Oscar Smith in their playoff game. With many talented underclassmen, there's no doubt that the future is bright for Tallwood Varsity Football.