Dealing With Injuries: Advice from Tallwood Athletes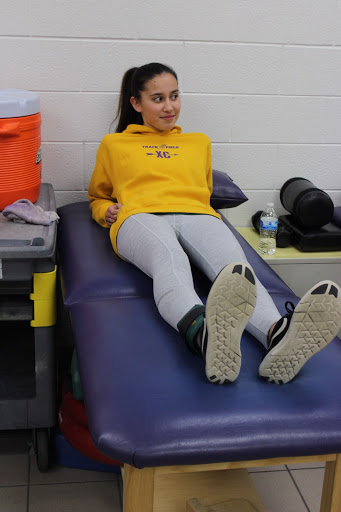 Injuries are always a large topic when it comes to sports seasons in school. School provides an outlet to explore other talents outside of just academics but sometimes this exploration is dangerous and results in physical harm to a student. Coaches and player do everything they can to prevent incidents but inevitably they still occur. Listen to what some Tallwood students have to say about it
"Miscommunication" is  at times a factor which leads to a player getting hurt according to Adison Marco Tallwood football player and 11th grader. Adison himself was injured and generally feels that the school trainers do a good job at protecting athletes.
"A lot of times they're quick to rush you back out there and you can get rehurt," Adison said speaking on school trainers.
"I feel like our trainer is pretty good I've never had a problem with it," said Ray Davis Tallwood Baseball Player and sophmore.
"It gave me a chance to take a break from all of sports and really make sure I got my grades and everything right so it definitely helped out but it kind of sucked not being able to play ya know"-Adison
"My ankle popped outward and inward. And then the athletic trainer kept asking me. 'Can you sprint to the door and back?' and I kept telling her 'I'm straight I'm straight' but whole time that s*** hurt. But I finished the game. It is what it is," said Jalin Baxter Tallwood basketball player and junior. "Don't get low-tops," Jalin laughed, keeping it light-hearted.
"I do hurdles…any wrong move you can get hurt really bad…I felt like it was my fault because I was kind of tired was just slacking and then like my slacking caught up to me and I just did a whole front flip and almost broke my ankle."-Breon Payton Tallwood Track and Field Athlete and Sophomore. "Push through it. Its all about perseverance you know that's the main goal of any sport and then at the end is when you can, like, rest a little bit."
All these athletes, for the most part, seem to be in accordance that the staff does a good job protecting students and making sure they are alright. The most common injuries often have to do with ankles! Maybe Jalin's advice about low-top shoes is relevant to all sports players. Injuries to players are often times more than the physical pain sometimes they can help an athlete refocus on school or even take the sport itself more seriously and be more cautious and attentive in the future. As Breon said often times one wrong move can result in harm. Either way it is relieving to hear that players feel like they're in good hands when it comes to Tallwood's trainers.